Our Work | General
ACCORD's Work
ACCORD works across the Peacemaking – Peacekeeping – Peacebuilding continuum as it seeks to encourage and promote the constructive resolution of disputes in Africa and so assist in achieving political stability, economic recovery and peaceful co-existence within just and democratic societies. In so doing ACCORD focuses on encouraging and consolidating dialogue towards the prevention, management and transformation of conflict. This work is underpinned by rigorous research and knowledge production.
The work is divided into four operational units:
Peacemaking – diplomatic interventions intended to transform a violent conflict into non-violent dialogue where differences are settled through representative political institutions.
Peacekeeping – seeking to preserve the peace, however fragile, once fighting as been halted.
Peacebuilding – seeking to prevent future conflict and to address the root causes of conflict.
Knowledge Production – creating a positive and constructive learning organisation that enhances policy, research and practice in the field of conflict management.
Download a copy of ACCORD's Brochure and Timeline: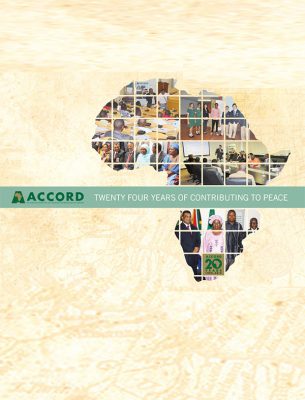 2 Jun 2016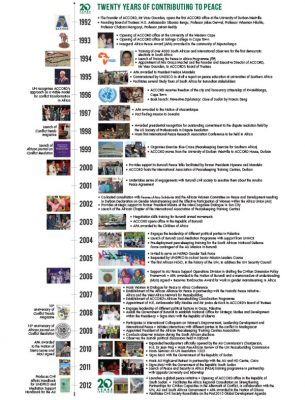 2 Jun 2016